DB2 for i
Most IBM i modernization tools and projects seem to focus on the user interface. But true modernization happens at three levels.
The database, the development environment, and the user interface.
It can be argued that the biggest gains and the foundation for real modernization should begin with the database.
The reliability of the IBM i as a server is legendary, with price, performance, and scalability that competes head to head with any other platform. It's a combination that makes it an ideal server for SQL workloads. It was one of the first platforms to be 100% compliant with the core level of the ANSI 2008 SQL Standard. And it offers many features that make it relatively easy to port databases from MySQL, SQL Server, Oracle, and others.
Those IBM i clients who have failed to keep track of this SQL metamorphosis are missing out on a plethora of new SQL-based functions that can make it easier for their IT teams to meet the ever-changing list of business requirements. In addition to taking advantage of the new functionality, organizations who embrace SQL typically find that: Developers can deliver on requirements faster because the modern SQL features allows the DB2 engine to do more work on behalf of the application.
More business processing performed by DB2 means that developers have to write and maintain less application code.
Improved performance and scalability can be a side benefit as the DB2 engine can perform some business processing faster and more efficiently than a high-level language application because the engine operates at the lowest levels of the system with sophisticated algorithms.
Table 1: Comparison of DB2 enhancements since Version 5 Release 1(V5R1)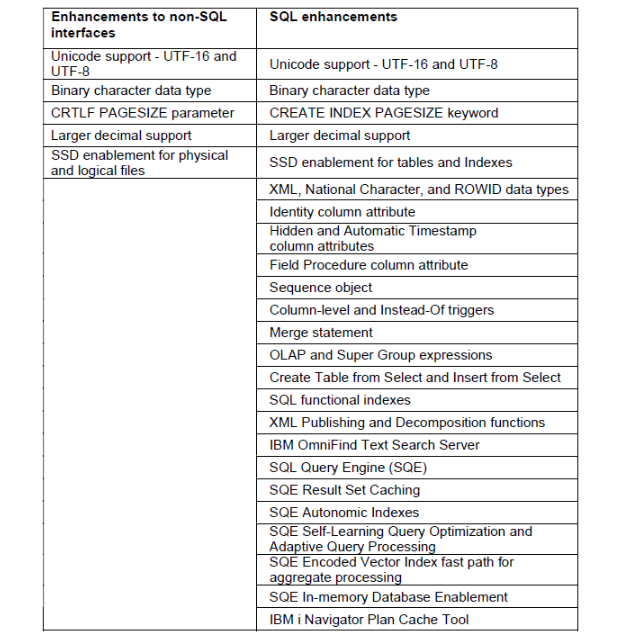 The efficiency of data-centric programming
This approach of using SQL to have DB2 do more work on behalf of the application is known as data-centric programming. A better understanding of this data-centric approach with the traditional record-level access methodology can be garnered by comparing the graphical representation of these two approaches, shown in Table 1.
What SQL means for businesses
In summary, the benefits of using a data-centric approach that features the usage of SQL and modern database functionality are:
Faster IT response to business requirements
Data-centric programming enables developers to focus their efforts on delivering business logic and relieves them from the responsibilities of implementing relational data processing. The result is a reduction in the amount of code that developers have to write as they rely more on the DB2 engine to take care of the implementation details. The SQL interface also offers a much larger set of features and functions to choose from which provides developers more opportunities to offload processing into the DB2 engine instead of creating application logic to perform the processing.
Reduced software development and maintenance costs
The movement of common business rules and processes into the database engine results in a smaller amount of software code that the IT teams need to write and maintain. These centralized business rules and processes are automatically reused instead of being recreated as new applications and business functions are brought online.
More reliable data to run your business on
Embedding common business rules into your database objects means that these rules are enforced regardless of the interface used to access the data. This centralization of rules within the database eliminates the exposure of tools and devices bypassing the rules and controls associated with your business data.
Improved performance and scalability
A data-centric approach results in DB2 performing tasks that are normally done at the application layer. Performance of the applications can be improved overall because the DB2 engine is doing the processing at a lower level in the system than the original application logic. In addition, datacentric applications benefit from the fact that IBM is putting almost all of its investment in SQL performance enhancements, which include self-tuning capabilities.
Sensitive data protection
Sensitive data is more easily protected with encryption using the SQL Field Procedure support. This technology permits the deployment of column-level encryption solutions with minimal disruption to existing applications.
Minimize risk with clear documentation
The documentation and structure of many DB2 for i databases probably exist only in the minds of developers. With the proliferation of data modeling tools for SQL databases, complete and easy-to-understand documentation is just a click away after moving your databases over to SQL.
Access to a larger pool of talented developers to build IBM i solutions
While it is a fact that there are fewer programmers versed in the IBM i DDS and record-level access interfaces coming out of universities, the vast majority of new programmers do have SQL experience. Using DB2 for i support for procedural SQL objects, such as stored procedures and functions, a new SQL developer can quickly contribute to the delivery of an IBM i application with a very small learning curve.
Milligan, K. and Hendrickson, D. (2012). DDS and SQL – The Winning Combination for DB2 for i. [online] Static.adsero-optima.com. Available at: https://static.adsero-optima.com/assets/ibm—dds-and-sql-whitepaper-the-winning-combination-for-db2-for-i—september-2012-update.pdf [Accessed 25 Jan. 2019].